Cook's Kitchen Cabinet Refinishing is a custom finishing company. We can apply many different techniques to your cabinets. In deciding which procedure for your kitchen cabinets, many factors will determine which is best.
Factors such as:
Existing or proposed
Lighting
Flooring
Appliances
Counter-tops
Tile
Woodwork
Size of your kitchen
Budget

If you are not sure of which procedure is best for your kitchen, we can show or make samples towards the color and effect you want to obtain. From that sample, we can additionally adjust the color to get the exact result you are looking for. Making a custom sample is the best way to get an idea of a finish that you will thoroughly enjoy. Below, is an detailed explanation of different techniques that we offer.
Solid Color Enamel Painted Finishes


Before After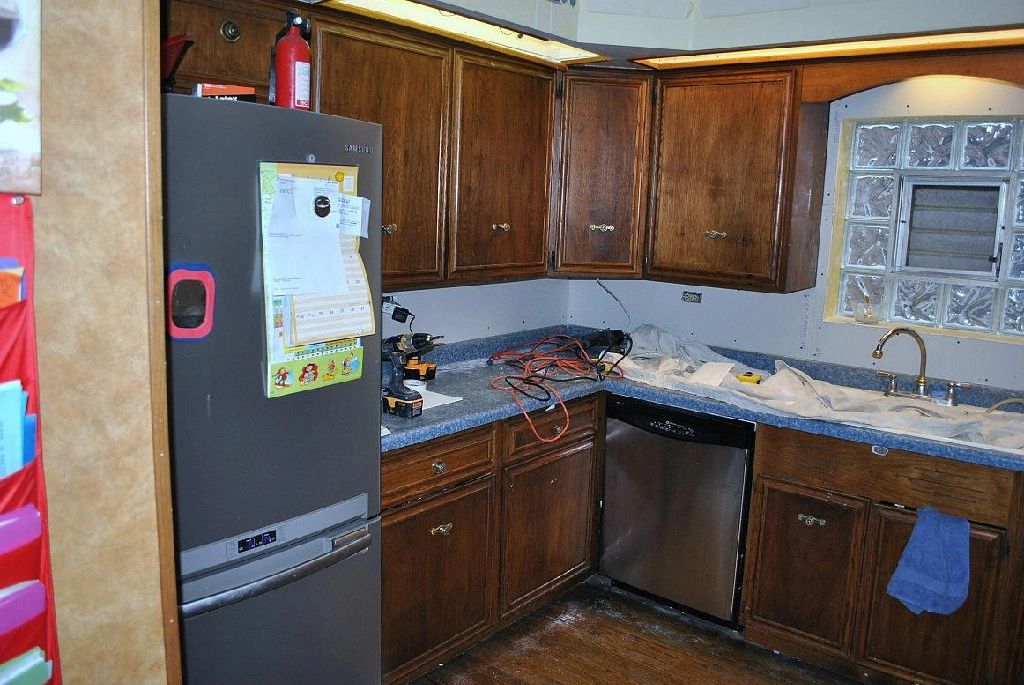 75% of cabinet refinishing jobs we do are of
painted enamel finishes. This is our most popular technique. Throughout the years, many trends have come and gone but the beautiful open and clean look of a painted enamel finish has always stayed on top. Any color can be achieved to your specifications. Painting in a neutral color not only can update your cabinets, but can give you more flexibility into the decorating process with the rest of your kitchen. Adding new hardware will additionally accent and complement existing appliances. High quality products and years of experience can only produce the finest results.
Glazing Kitchen Cabinets


Before After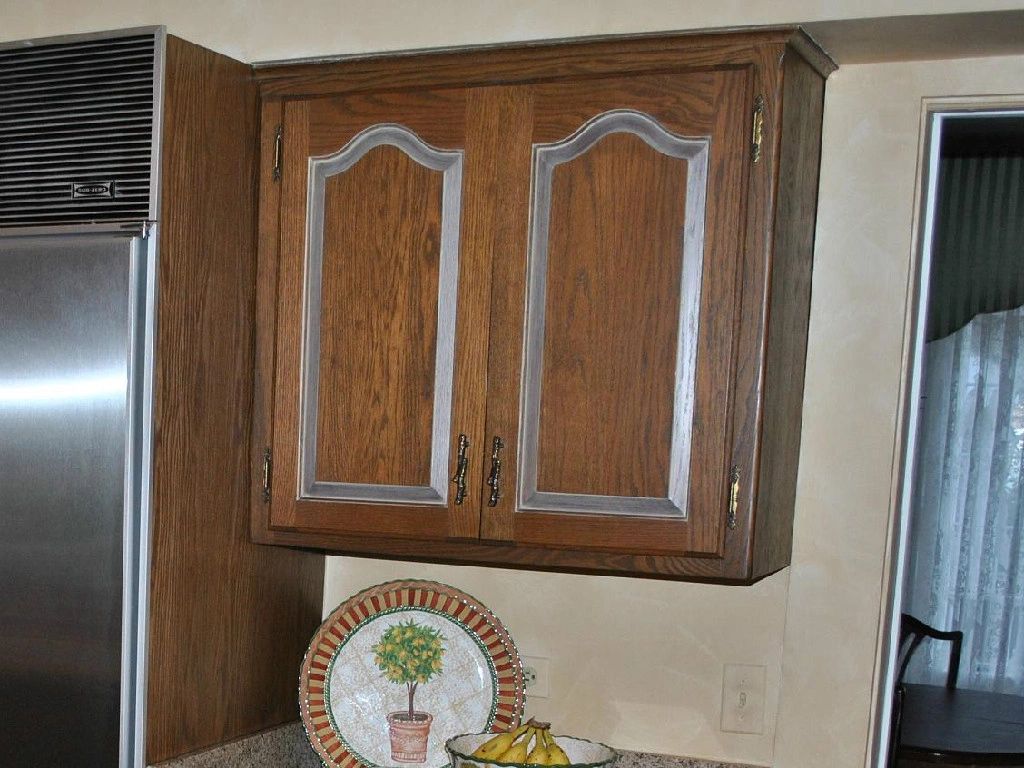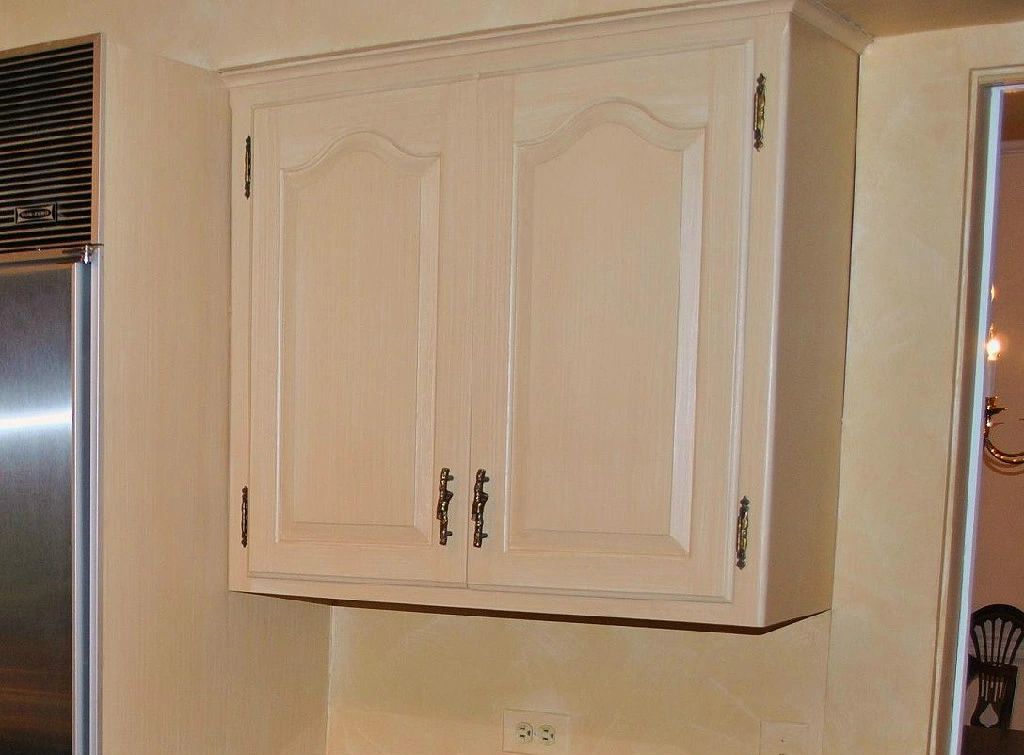 Glazing is a custom finish that can add a warmer look to your cabinets. We can glaze your cabinets to almost any color shade. I do have completed samples of popular colors but custom colors have to be tinted. I can replicate colors from pictures in magazines, furniture or woodwork samples. The possibilities are endless. I do not only control the color but the harshness of the glaze. Glazing is a lost art, but with the right color, texture and finish, the compliments will keep coming.
Wood-Graining


Before-Formica Cabinets After-Formica Cabinets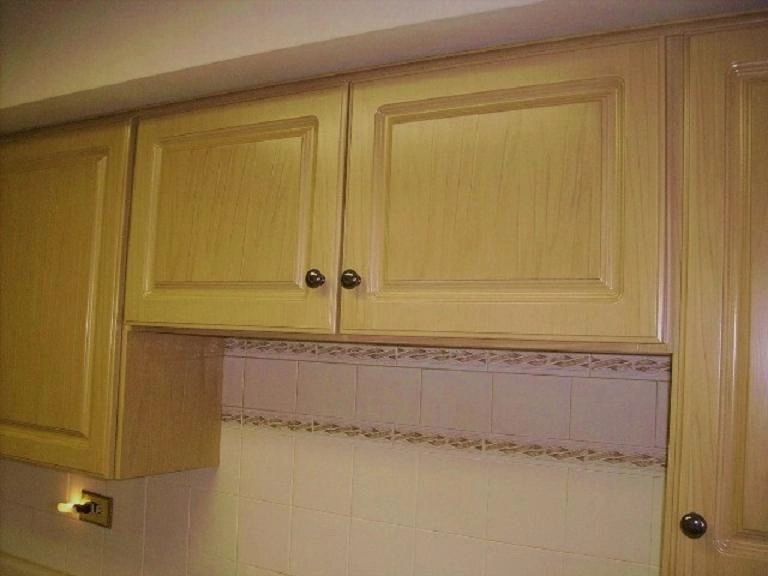 Wood-Graining is another lost art. Only done by professionals like my father. This handed down technique is similar to glazing. The main difference between wood-graining and glazing is: wood-graining will leave a wood-tone effect where as glazing will leave a softer straight line effect.
Wood-graining has it's uses. It is mostly needed when you have
Formica, laminated, metal or existing wood with hardly any prevalent grain in it at all such as birch or maple. On these surfaces, a rich wood-tone effect can be applied. All the grain color is artificially put in by hand. Wood-graining is also used when going from one wood-tone color to a completely different wood-tone color. Most any wood-tone can be imitated.
Color Varnishing and Re-Coating
Color varnishing is a cost effective way to freshen up your cabinets. Some cabinets only need cleaning, sanding, re-staining of worn out areas, and an application of a tinted sealer (colored varnish). In the old days we used varnish, now it's polyurethane. If your cabinets have minor wear and you want a slightly different shade and more protection, then this is the procedure for you. Also, if a different shade is not wanted, we can re-coat your cabinets in a clear protective finish resulting to many more years of use.
De-Stressing and Antiquing
Although very popular in the 1980's and 90's, these techniques have been just trendy. We can distress or antique your cabinets but here is what you might want to consider.
Will you like the look of the cabinets years from now as much as when they were first finished?
If you want to sell your home, will someone else like the finish as much as you did?
How difficult is it to decorate around?